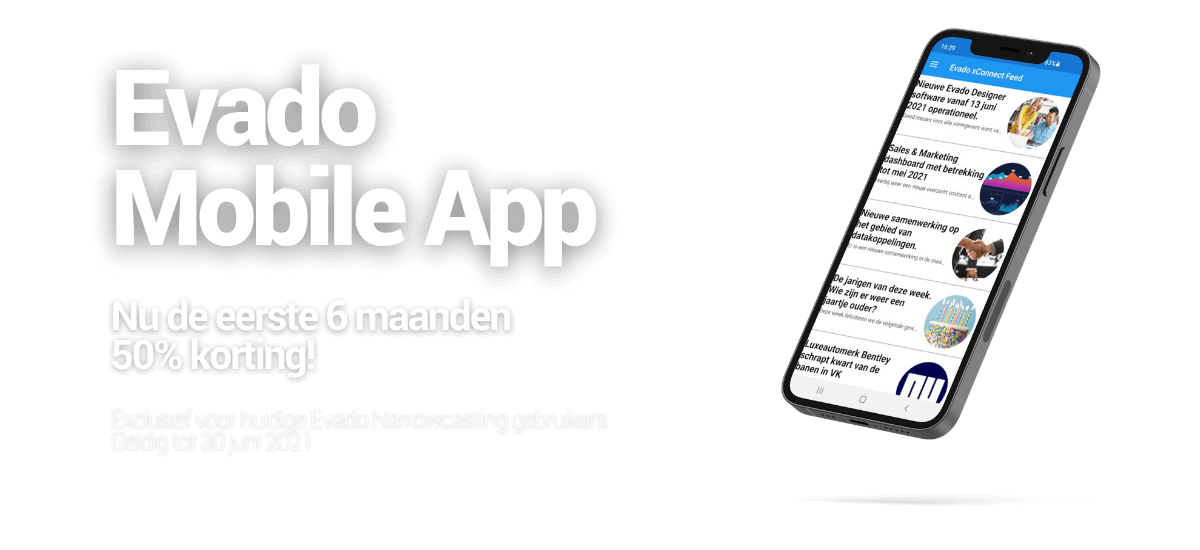 Nieuw! – Evado Mobile
Naast narrowcasting biedt Evado nu ook de mogelijkheid om uw berichten te tonen op een smartphone. Dit doen we door middel van onze nieuwe Evado Mobile App. Of het nu een bestaande uitzending is of een compleet nieuwe, beide is mogelijk. Evado Mobile beheert u eenvoudig via het Evado CMS, zoals u het gewend bent.
Bereik nu iedereen
Groot voordeel van Evado Mobile is dat u nu iedereen kunt bereiken. Het is een geweldige aanvulling op uw narrowcastingschermen waarbij het bereik van uw boodschap enorm wordt verhoogt.
Evado Mobile is beschikbaar voor Apple & Android toestellen.
Profiteer nu van onze tijdelijke aanbieding.
Voor u als huidige Evado gebruiker hebben we een exclusieve aanbieding. U ontvangt nu namelijk 50% korting op de eerste 6 maanden (normale looptijd 12 maanden). Deze actie loopt tot 30 juni 2021.
Ja, ik heb interesse. Bel mij voor meer informatie.